Casernement de Douanes
Tamanrasset, Algeria
Our proposal for this barracks housing the border patrol places the ubiquitous soccer field to the south free of shade, and then imagines a dense casbah of structures and alleys that maximize the shade everywhere else. A thick concrete shell protects the communal functions at the center of the complex, with the residences protected by second skins of trellis. Parking is kept at the street edge in order to maximize site area available to pedestrians.
At the heart is a question of how to create community from a mix of both married and single men and women along with children, in a culture that we have experienced but do not know deeply, on a campus defined by the job these people do and not their social or cultural or religious backgrounds.
Our proposition puts single men and single women at opposite edges of the campus, and places families closer to the center as a kind of mediator. The administrative and communal functions occupy the heart of the facility. We have opted for a low rise solution to the problem rather than, for example, putting all of the housing in a single block, thereby giving every family a private courtyard and each gender its own precinct.
The walls of our buildings take their inspiration from cactii and torn fence. From cactii we know that a pleated or wrinkled or slatted skin will shade itself and reduce heat gain. The torn fence comes from a meditation on what the border patrol does, guarding boundaries or fences. Our thought was that a barracks that in some small way has the border guard constantly penetrating torn fences might gain some insight or even empathy for the people they seek to apprehend.
Architect: Roel Krabbendam
Firm of Record: imagine RED LLC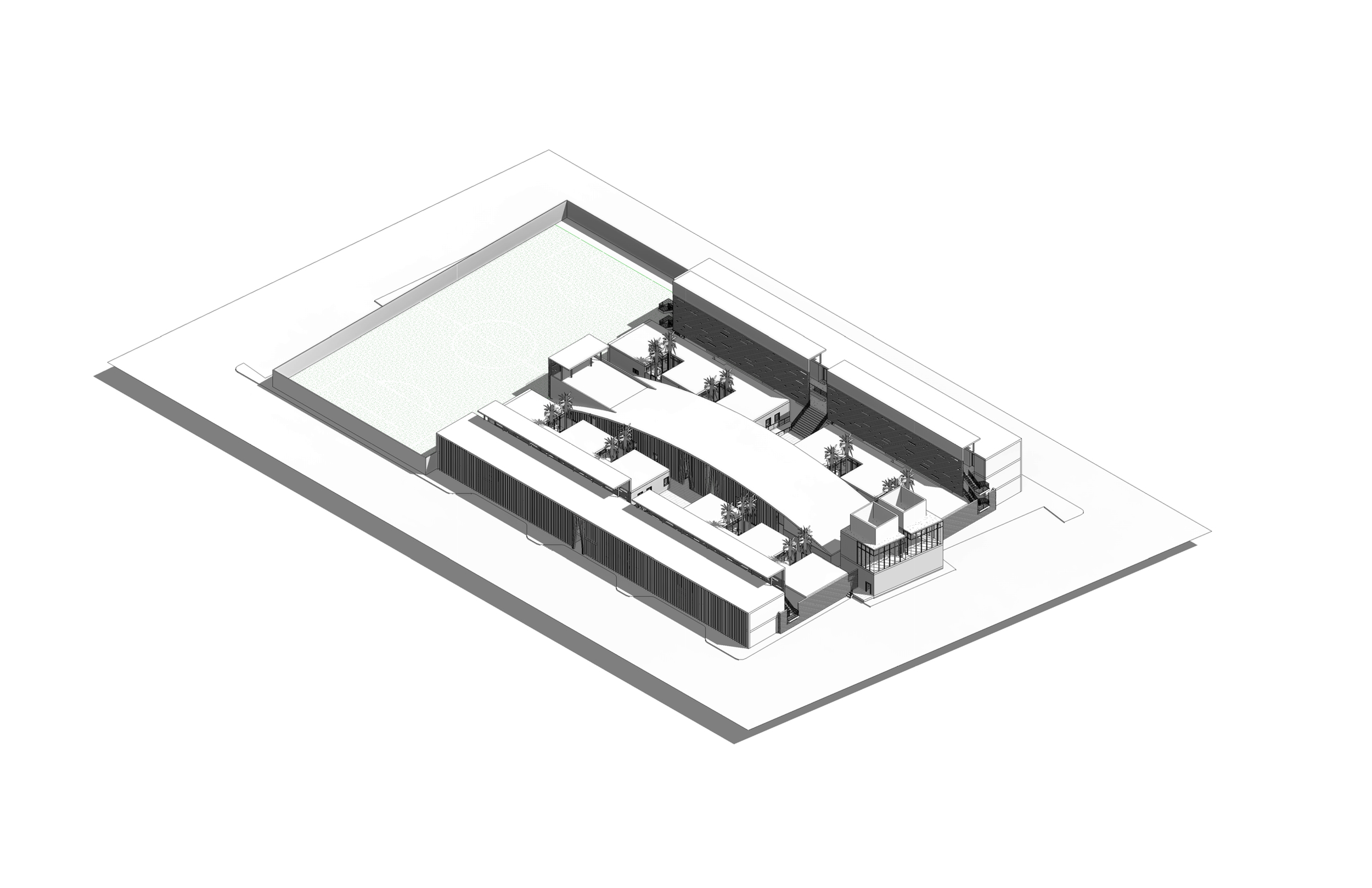 The Hearth Foundation
Housing for Homeless Women with Children
Tucson, Arizona
On the site of some worn out apartments, the philanthropic organization proposes to construct a new community for women in need, invited to stay for a year as they rebuild their lives.
16 new two bedroom apartments are envisioned, arranged in pairs around small shady courtyards. In this way, residents are encouraged to socialize and cooperate together to take responsibility for the security and maintenance of the site.
Central to the collective is a new community building and playground, with an administrative office monitoring the entrance to the site and function room for meetings and social activities. Here again, the venue is designed to invite residents to socialize and cooperate, while giving the children safe, monitored space to play.
Architect: Roel Krabbendam
Firm of Record: Imagine RED LLC
The Hearth Foundation
Shelter for Homeless Women with Children
Tucson, Arizona
To address the growing need for short term shelter in addition to longer term housing, the Hearth proposes a new structure on one of their existing sites.
As we met some of the indomitable women currently served by the Hearth, we were inspired to design the building through their eyes: first of all, private and secure, so that their fears of further abuse are firmly addressed, secondly, grounded and stable, so that the insecurity of their present circumstances is allayed, and finally, brightly daylit from above to communicate a sense of hope and a better future.
The building houses 16 family groups at one time, with rooms paired around a shared bathroom. Secure storage, casual seating areas, kitchen, dining room, separate adult and children's rooms, and administrative facilities complete the facility.
Architect: Roel Krabbendam
Firm of Record: Imagine RED LLC
housing portfolio
architecture and interior design for multi-family housing in Arizona and Algeria by imagine red