Neustar Headquarters
Washington, DC
40,000sf
A deep, flat pancake of a space, filled with columns and poorly daylit, hosts the new headquarters for this newly independent spin-off from Lockheed-Martin.
The prototype proposes a matrix of elliptical conference rooms, partly translucent and partly clad in marker board, to serve as a beacon of light for each department on the floor and as kiosks to promote brainstorming and informal collaboration. In contrast, workstations are kept radically light and flexible in order to simplify movement and reconfiguration. The hexagonal structure of Herman Miller's Resolve System allows for organic growth and congregation among the columns and conference rooms as teams form, change or dissolve.
By highlighting the distinction between the stationary and the mobile, the project pushes to powerfully address the desire for informal work options, the need for flexible teams and the mandate to economically transform a tough tenant space into a vibrant work environment.
Design Architect: Roel Krabbendam
Interior Design: Polly Dithmer
Office of Record: Ganek, Baer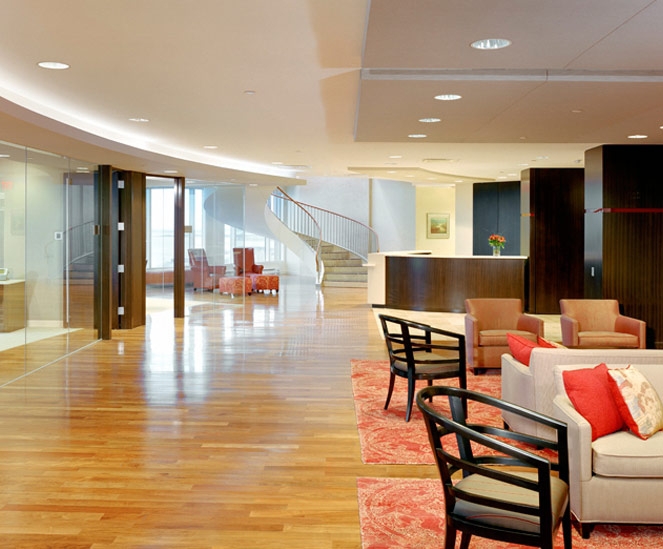 Choate Hall and Stewart LLP
Boston, MA
154,000 SF
This law firm occupies seven floors of a cylindrical building overlooking the harbor in downtown Boston. In addition to standardized offices, secretarial spaces and conference rooms, the program includes a cafe, computer room, library and conference center. The design was inspired by the sea, and in particular by the sand and sea glass and driftwood found on the beaches of New England.
Interior Design: Polly Dithmer
Firm of Record: CBT
Combined Jewish Philanthropies
Boston, MA
The Combined Jewish Philanthropies purchase a narrow flatiron building in downtown Boston and embark on extensive additions and renovations. We propose to gather core elements behind a curved maple wall, remove partitions, minimize enclosed offices, and furnish the staff with high-end 9' x 9' workstations. The top floor is proposed to house a conference center and support facilities.
The resulting space is bright and functional, encouraging cooperation and collaboration in a powerful way, and reinvigorating the organization after years of making do in rented space.
Interior Design: Polly Dithmer, Roel Krabbendam
Office of Record: Leers, Weinzapfel and Associates, Inc.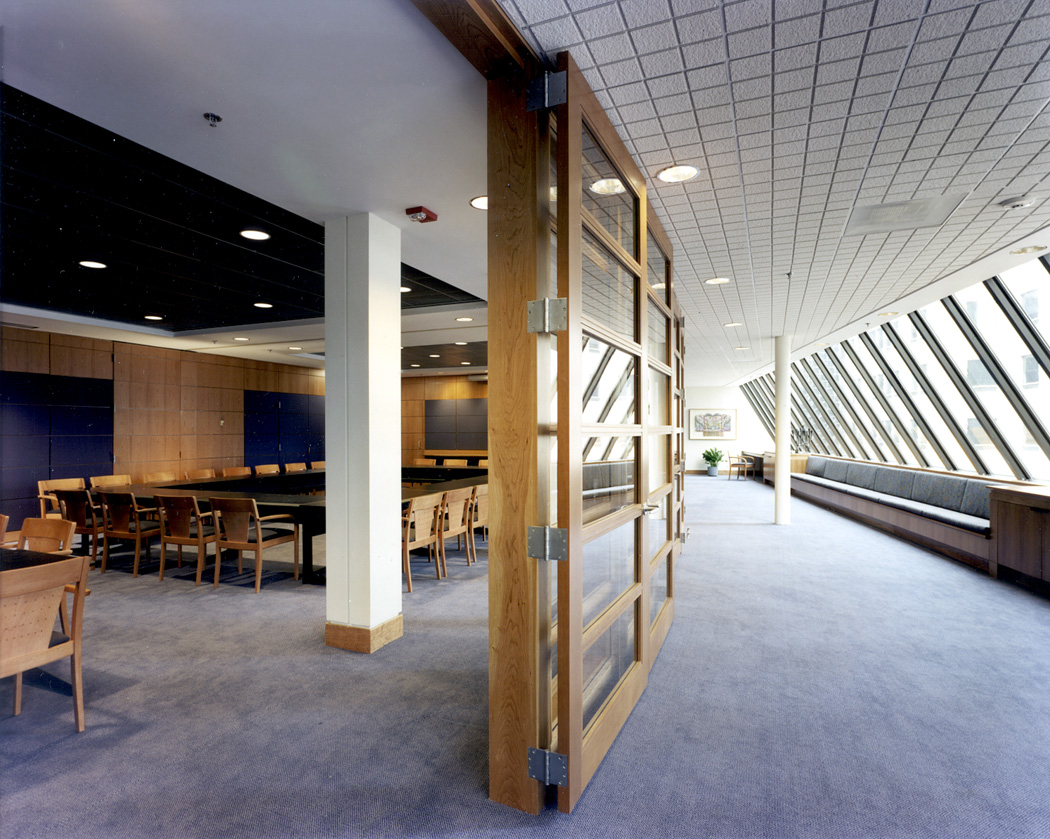 Veritude Corporate Headquarters
Boston, Massachusetts
How to vitalize a workspace starved for daylight? How to engage staff with paint and fabric and carpet? Color is the answer, with attention to artificial lighting, and perhaps some natural wood and plants to cut the artificiality. Glass helps a lot, to expand the sense of space. This offshoot of Fidelity Investments demonstrates one successful approach.
interior design: Polly Dithmer
office of record: ADD, Inc
888 Boylston Street
Boston, Massachusetts
495,000 Gross Square Feet
888 Boylston Street is a 19 story mixed use proposal incorporating street and arcade level retail space with 17 stories of office space above, supported by 2 stories of underground parking. Situated between the Prudential Center Arcade entrance, and the Hynes Convention Center, the project is set back from Boylston Street to create a new pedestrian scaled street level plaza to replace the existing, two-level plaza. The proposed building height approximates the height of the nearby Fairfield residential towers, placing 888 Boylston comfortably in the context of these taller buildings.
The building is conceived as a foreground element to the Prudential Tower, the curved curtainwall contrasting with the adjacent masonry structures on Boylston Street. With the Prudential Tower and adjacent plaza, 888 Boylston represents an experiential "pause" along the south edge of the street.
The building is governed by a complex series of zoning regulations, overlay district regulations and independant covenants with abutters. Wind studies and animated shadow studies were completed in 2006, and a consensus - building effort with abutters and the Boston Redevelopment Authority commenced shortly, there after MEPA permitting began in 2007.
The street level of 888 Boylston Street incorporates an office lobby entrance and a large expanse of retail entered from the plaza to insure a dynamic plaza edge and street presence. Escalators in the office lobby bring pedestrians up to a second floor office elevator lobby directly connected to the Prudential Center Arcade and new Mandarin Oriental Arcade. In this way the building expands and benefits from the powerful urban connectivity represented by the Arcade pedestrian network. Arcade level retail within 888 Boylston connects directly to the Arcade and adds diversity to the retail by offering larger tenant spaces. The opportunity to connect directly to the foodcourt offers increased diversity there as well.
Senior Project Manager: Roel Krabbendam
Firm of Record: CBT Architects.
Workplace
Project Experience:
Champion International, Renovations
Choate, Hall and Stewart, Law Offices
Combined Jewish Philanthropies, Headquarters
Egon Zehnder International, Outsourcing Office
EMC Corporation, Renovations
Fidelity Investments, Branded Environments
Hutchins, Wheeler & Dittmar, Law Offices
IBM, Educational Center
Massachusetts Turnpike Authority, Headquarters
Neustar Inc., Headquarters
Veritude Inc., Headquarters
Williams & Connolly, Law Offices
888 Boylston Street, Commercial Office Building
workplace portfolio
architecture and interior design for the workplace in boston, masssachusetts and washington dc by imagine red